Audio / Video Services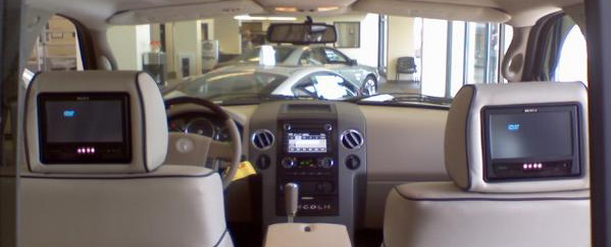 Head Units
- The head unit is the main control device for a car audio system. Head units are generally installed in the center of the dashboard or dash panel. Among the most common mobile audio components are in dash car stereo receivers primarily with an AM-FM tuner, also many car stereo receivers features such as video LCD screen, multimedia DVD playback, Bluetooth hands free, XM Sirius satellite capability, iPod hook ups and more.



Speakers
- Boost your car stereo system with upgraded speakers. Choose from coaxial speakers which combine a tweeter and woofer in one speaker unit. Coaxial speakers come in 2-way, 3-way or even 4-way. It allows for a simple drop in installation. On the other hand, select a component speaker system that includes separate tweeter and woofer units. You can hook up an amplifier, crossover and other car audio essentials to customize your placements.




Amplifiers
-
Add the power you need for your car stereo system. Car audio amplifiers allow you to run larger and more detailed speakers. Choose from 2 channel amplifiers, 4 channel amplifiers, car amplifier installation kits, car amplifier power wires, fuses, power distribution, mono amplifiers, RCA cables and speaker wires.

A monoblock amp is a single-channel amplifier for subwoofers. A "digital" amp is a term for a class D amplifier. A car audio amp takes an analog input and produce analog output. Monoblock amps very commonly made of class D architecture. Only a few are class AB. Most class D amps are designed for bass frequencies and won't play mid-range or high frequencies.

Subwoofer
- A subwoofer or sub is a woofer or a complete loudspeaker producing low heart thumping bass audio frequencies. Subwoofers are typically designed in enclosures such as bass reflex, infinite baffle, horn-loaded and bandpass. Subwoofers can be combined with amplifiers, speakers, tweeters, crossovers and many more car audio stereo components.

Headrest DVD
- Car DVD headrests are replacement headrests with built in dvd players. Simply remove your original headrest and install one of our replacemend DVD headrest monitor systems. We offer a full selection of dual car dvd players, or better known as dual dvd headrest monitors for nearly any vehicle.





Overhead DVD
- Car overhead dvd player are roof mount overhead flip down lcd monitors with integrated dvd players that are designed to flip down from the roof of your vehicle. Overhead roof mount monitors are the simplest approach to a car video solution. We offer the largest selection of overhead car dvd players. We have a roof mount lcd monitor to fit any car truck or suv.





In Dash
- Car DVD player offer all the benefits of home but in a car! Dvd players offer superior picture and sound quality. Our car DVD player offer integrated TV tuners to allow you to view off air TV channels. So now you can watch your favorite show while on the move. Many of our car DVD player can be mounted in nearly any direction even upside down! This allows you to conveniently mount you car DVD player literally anywhere.